Coastal exploration and culinary delights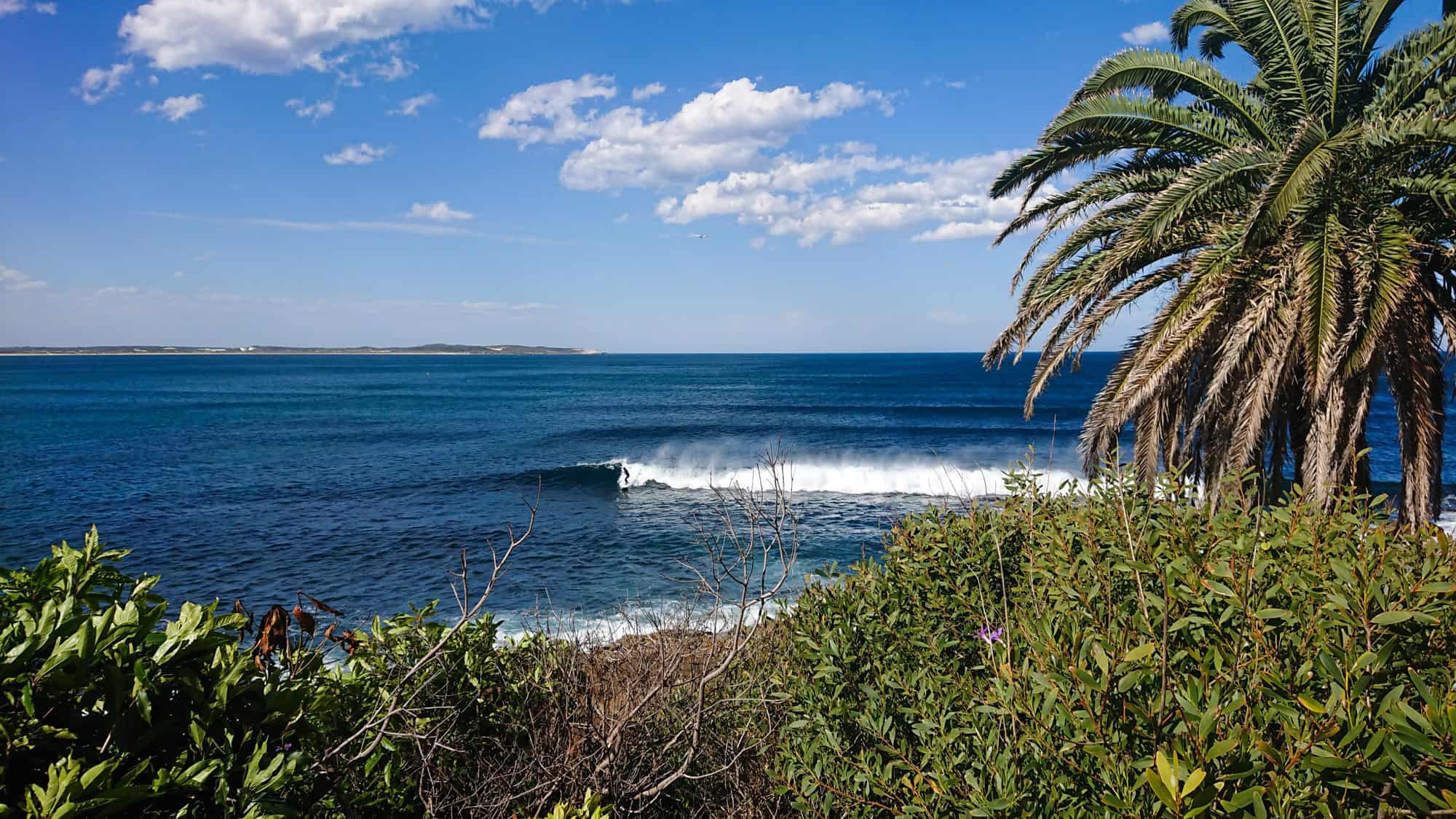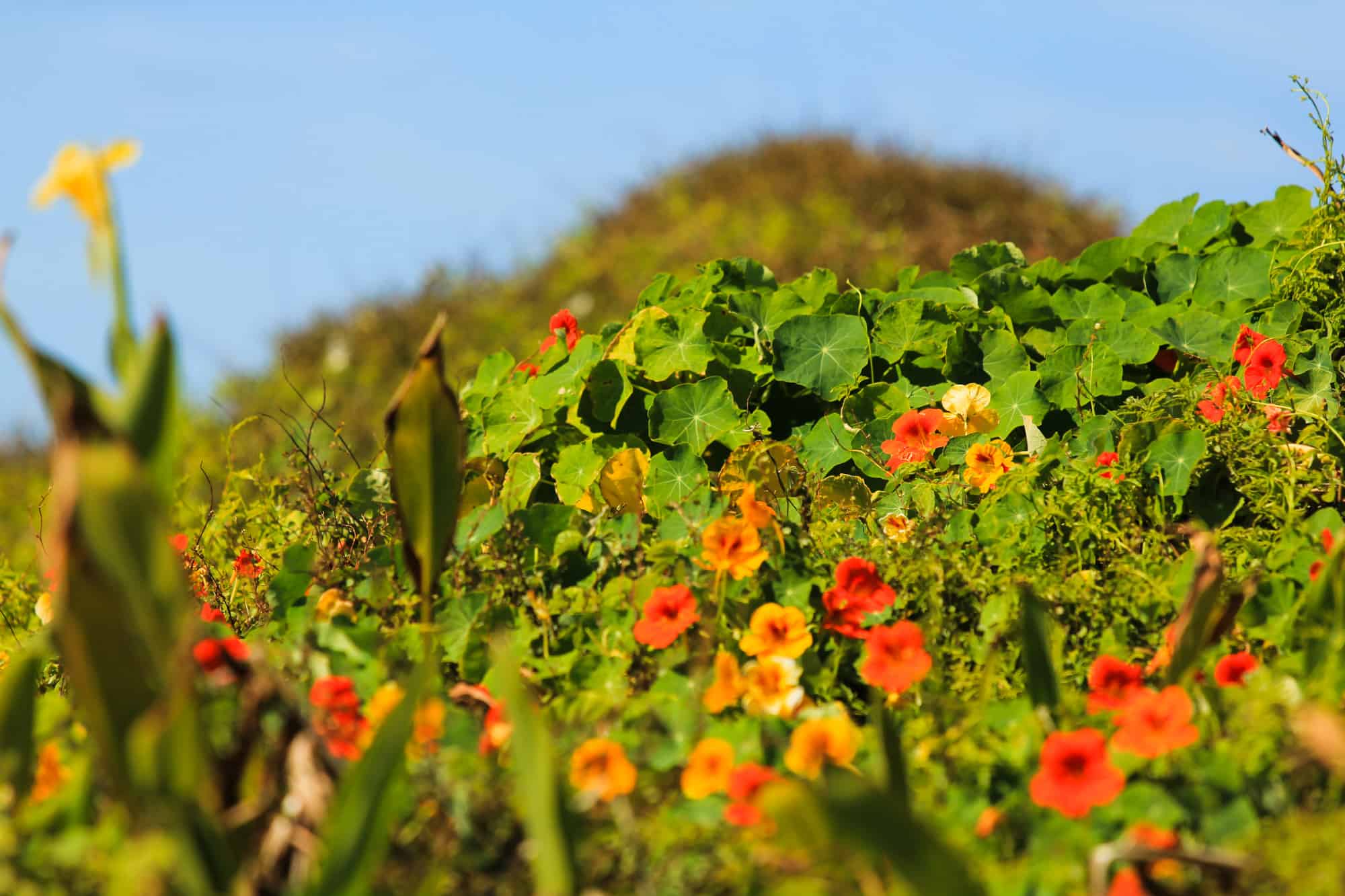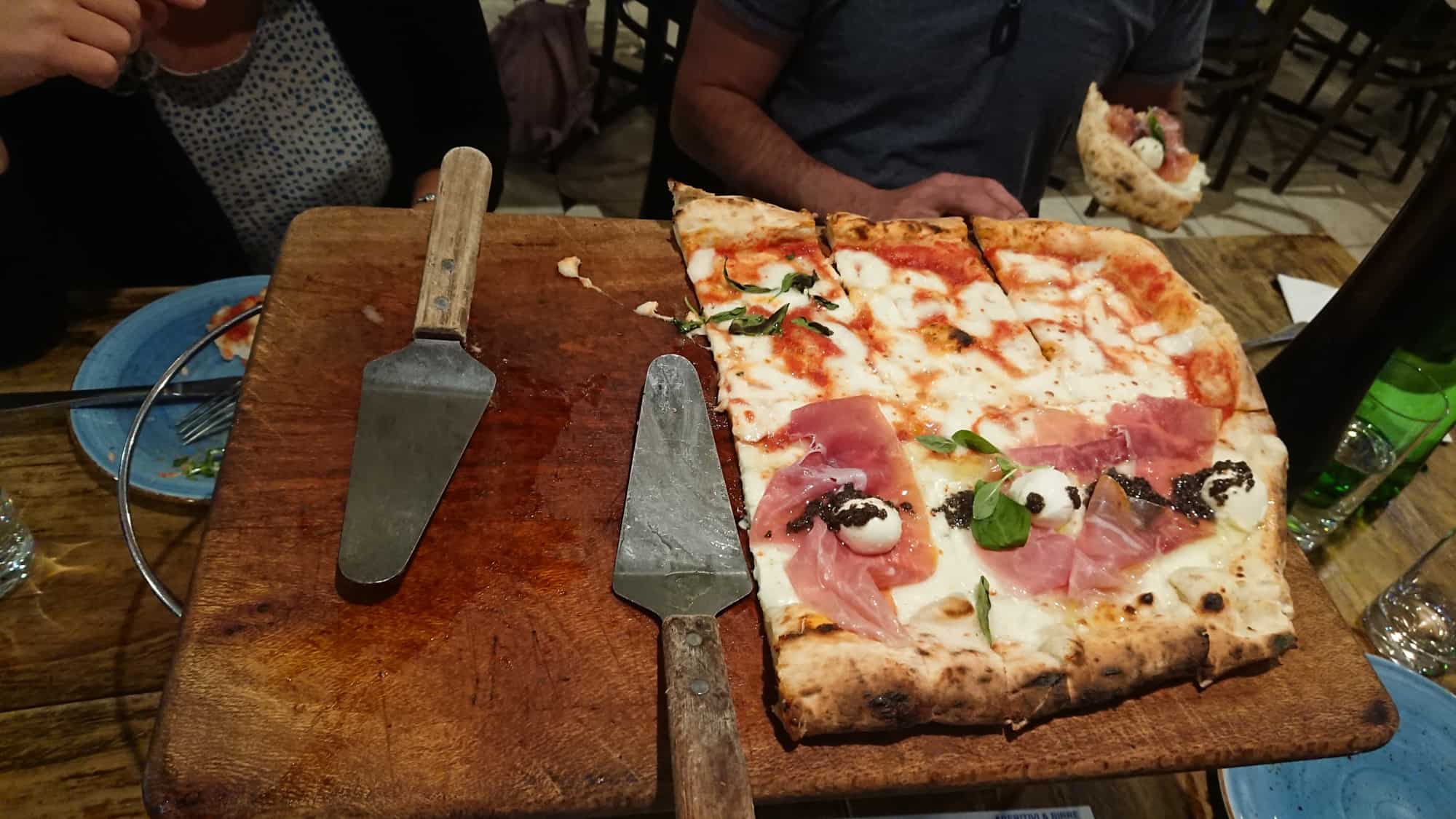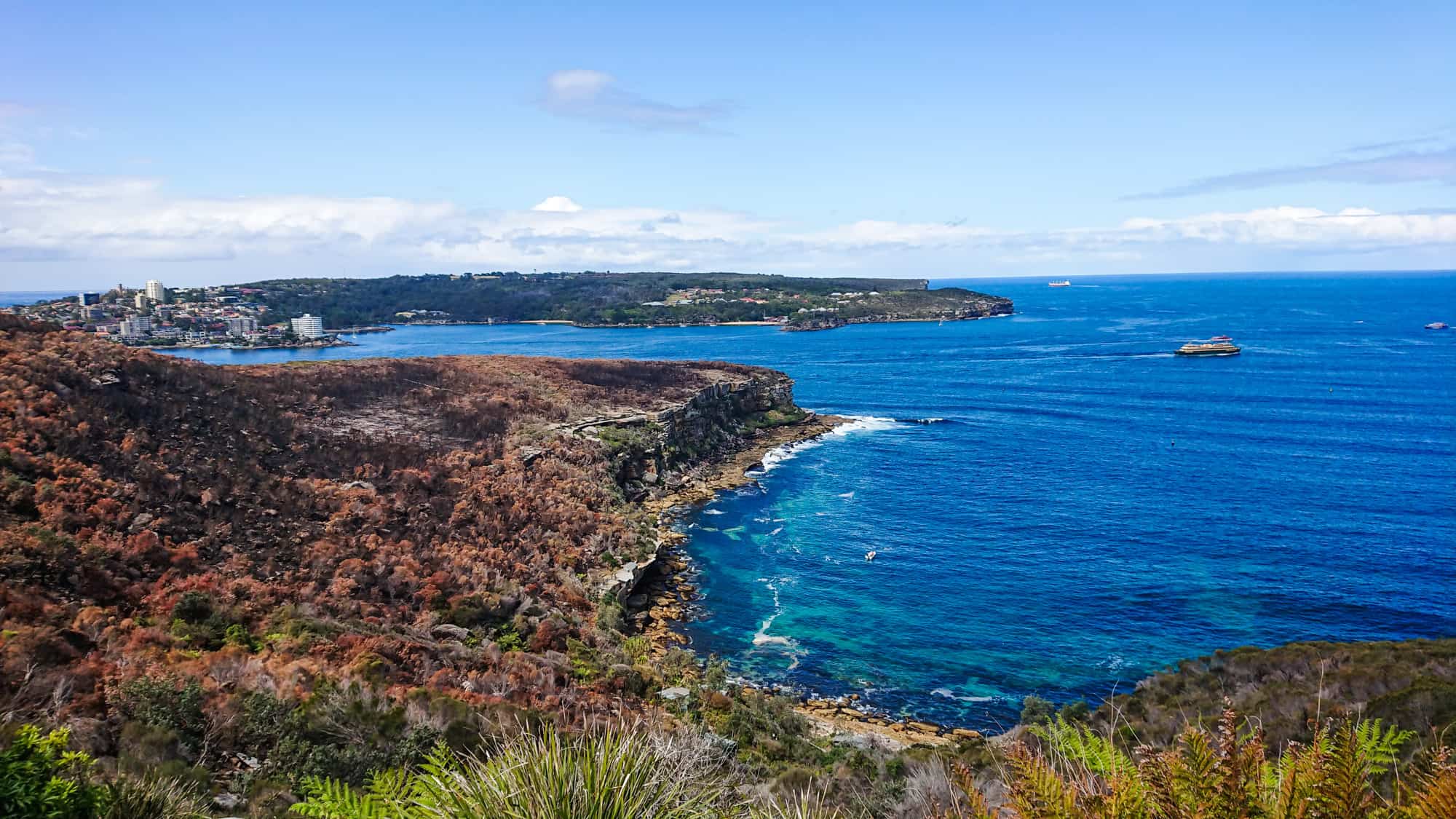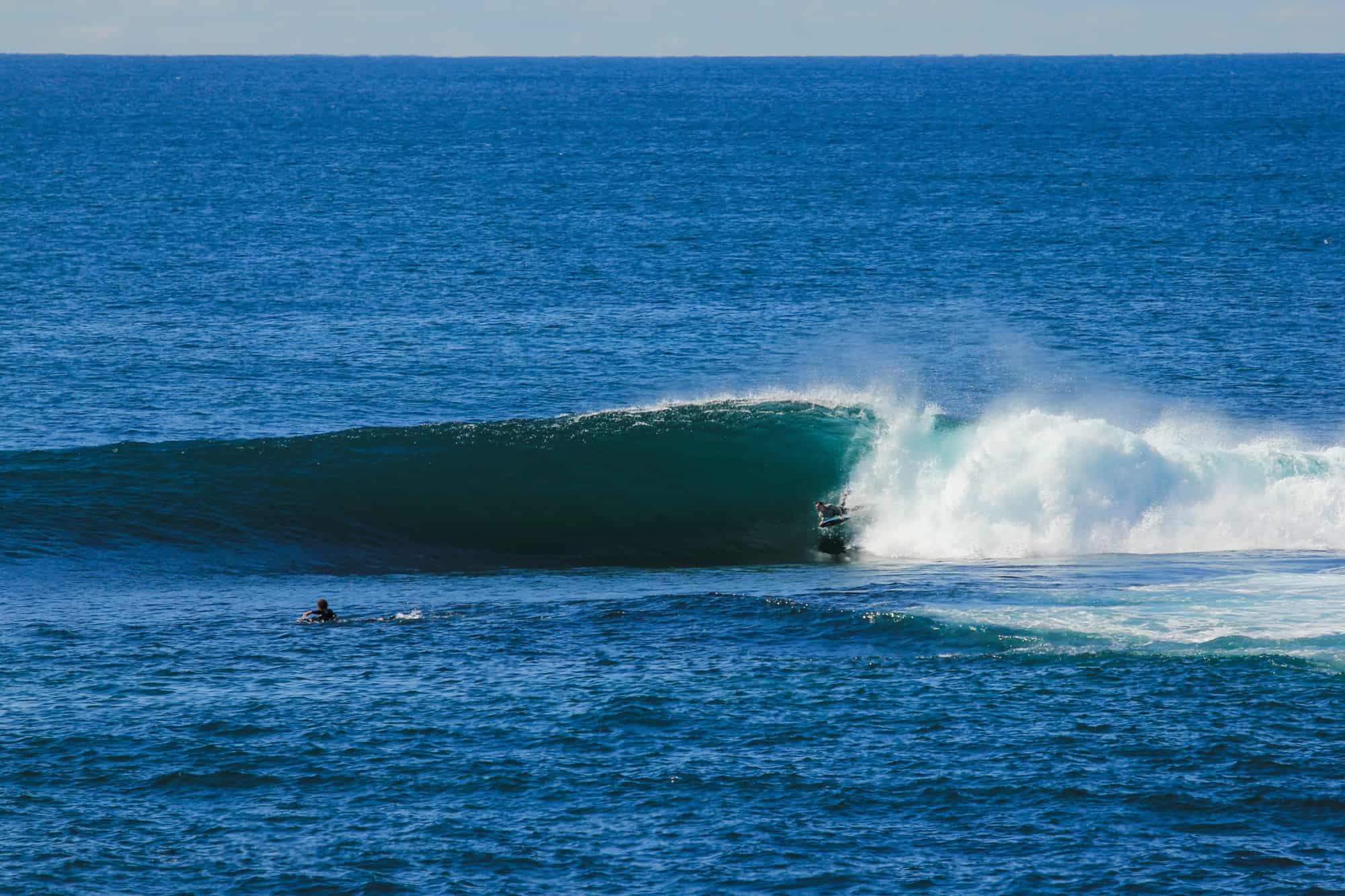 Having seen parts of Cronulla when we went diving at Oak Park Linus was curious to see more of the area. We decided to go for a walk along the coast and came across several surf breaks with a few people out playing in the waves. One peak was throwing a beautiful barreling section and we could see some body-boarders charging through the tubes.
As we came close to Oak Park we sat down on a grassy area on top of a small cliff and looked down towards the break. Small waves were rolling in and from the angle we were sitting in the waves looked quite spectacular as the off shore spray glowed with rainbows.
During our time in Sydney we had the pleasure of meeting up with so many old friends of Malin's that Linus finally got to meet. One day we met up with Marian, one of Malin's closest friends in Sydney, and she had brought her son Alexander. We had a delicious lunch together in Mortdale, an area quite close to Como where Anna and Bernie lives, and it was really nice to see a bit more of the area. It felt like we could sit and talk forever, but eventually Marian had to head off, and we went in to the city to meet up with Andrew (Malin's old friend and client) for a few afternoon drinks. As the arvo turned into night we went to Via Napoli, a pizzeria in Surry Hills. The pizza there was truly amazing and came close to the best Neapolitan pizza we've ever had that Linus can still dream about which was at Meno Male in Stockholm together with our friends Elin and Mimmi who are connoisseurs in all things Pizza. Surry Hills is overall a very cool area and it was a great day!
Our culinary experiences continued, and as all good things comes in threes, having been in Coogee twice already, first for lunch and then for drinks, we completed our culinary Coogee threesome as we met up with Tony and his fiancé Kirsty for a delicious brunch at Little Jack Horner close to Coogee Beach. Tony is an old diving/dining friend and it was so great to catch up again after 8 years and get to know Kirsty.
Having seen the CBD and explored some of the southern suburbs of Sydney, we felt it was time to head up north and we decided to do the Spit Bridge to Manly walk. Malin had previously seen that James, the Creative Director at the design agency she had worked for in Sydney had decided to chuck the design business, start bread making instead, had turned into a star baker and was now running a very successful bakery called Staples in Seaforth. The bakery was not open the day we were planning to do our walk so we could unfortunately not sample his creations, but as he lives on the northern shores and was free we decided to catch up for a coffee. We met up with him and his wife Kate in Clontarf and bought some coffee and sat down in the park. It was great to hear their story of how the bakery had grown from nothing to now be selling 800 loafs and 1500 pastries every weekend.
After sitting in the park for some time they joined us for parts of the walk that runs through the forest next to the ocean and it was really nice to explore this part of Sydney in their company. At one point we came across some aboriginal art that James and Kate had not seen before and we stopped to look at the etchings before we continued. They had parked their car around the Crater cove lookout, about two thirds of the way, and after saying good bye we began the last leg towards Manly.
The walk is 10km long in total and as we reached Manly we were very hungry and felt that we deserved a nice lunch after the walk and we were delighted to find another Neapolitan pizzeria on a side street. We shared a Margherita and a salad and the pizza was delicious, but we think that Via Napoli in Surry Hills won the battle of the pizza's in Sydney.
With our bellies full we started to explore the different surf shops in Manly and went down to look at the surfers that were playing in the small and slightly messy waves that were rolling in. We were going to have dinner in Manly with Ulrika, another old friend who also worked for the design agency, so we had a few hours to kill and as our bellies had recovered from the pizza and it had been quite a few months since we had a taste of Sweden we went to "Fika" the Swedish cafe in Manly where we had a coffee and a cinnamon bun. We met up with Ulrika at a dumpling/Poke Bowl place and the food was really delicious and we had an awesome dinner together before we took the ferry from Manly to Circular Quay. As we came past the Opera House we went out on deck to take in the view of this iconic building and the Harbor Bridge from the ocean.
After 3 weeks in Sydney, the day of our departure to Bali had come and after our amazing Australia adventure we decided to finish in style and we went to Cronulla to have a delicious breakfast by the sea. Andrew joined us and as our food came out it was some of the most beautiful plates we've ever seen. Everything was delicious and it felt great to have this quiet and beautiful moment together before we head off to the airport.
Our time in Sydney was very emotional for Malin as seeing this precious place again brought back so many great memories of her former home and it was wonderful to get to see so many old friends again. The feeling of being at home was very much emphasized by our amazing hosts Anna and Bernie and their daughter Charlie who opened their home for us, gave us amazing coffee, cooked us so many delicious meals, and made us feel really welcome.
A massive thank you to you all and we can't wait to see you again!